Next Best Offer and Next Best Action are core pillars for your customer-centric marketing
For telecoms, intelligent resource and investment allocation are more critical than ever as market saturation makes acquiring new customers increasingly difficult. To stay competitive, every outreach action should be mapped as clearly as possible to concrete, high yield business goals. This is especially true for applications aimed at improving customer experience, usage metrics, upsell or cross-sell initiatives and customer retention.
Our digital reality creates the expectation of highly personalized offers and quick access to relevant messages. To achieve this, customers must be engaged at the individual level via the right channel at a time most likely to trigger a positive response.
With their huge customer data stores, telecoms already have the raw material to make these objectives a reality and to capitalize on game-changing opportunities.
Next Best Action (NBA) & Next Best Offer (NBO) increase conversion rates
The goal is to offer telecom service subscribers something they might be genuinely interested in at a time when they are eager to consider the action or offer.
Next Best Action (NBA) methodology adopts a customer-centric behavioral approach. Based on recent customer events NBA considers various actions, such as:
Sending a birthday message
Initiating a proactive service quality improvement
Asking for service evaluation
Emailing onboarding instructions, etc.
Next Best Action (NBA) looks at a range of possible actions towards the customer
considering his/her current context. By implementing predictive analytics, Next Best Action selects the action with the best chance of leading to a positive outcome.
Meanwhile, Next Best Offer (NBO) optimizes the selection of a highly customized offer from a telecom's diverse offer catalogue. The NBO engine automatically evaluates and recommends one or more products that will most likely satisfy a customer. Next Best Action and Next Best Offer increases conversion rates by coordinating delivery at the right moment, at an attractive price and via the most appropriate channel.
With personalized, relevant and real-time delivered actions and offers, telecoms can make huge improvements in customer relationships and business outcomes. Not only conversions or revenue can increase, but also telco companies save marketing budget once tailored offers are targeted only to the ones who could be interested. Satisfactory interactions that anticipate customer needs will also improve retention since you give them what they want when they want it.
All Next Best Offer implementations touch on the same key principles and must overcome the same challenges:
Key principles

Key challenges

Be relevant to the customer
Be consistent across touchpoints and time
Reduce choice for the customer
Prioritize choices that drive business KPIs

Who is the customer?
Which products & services to offer?
Which channels to use?
Who is responsible?
When should the offer be presented?
Next Best Action drives business KPIs
The diagram below illustrates how Next Best Action selects from a variety of options that make contextual sense to the customer. This improves the brand image, customer satisfaction and retention. Plus, Next Best Action occurs to personalize the customer experience from end-to-end: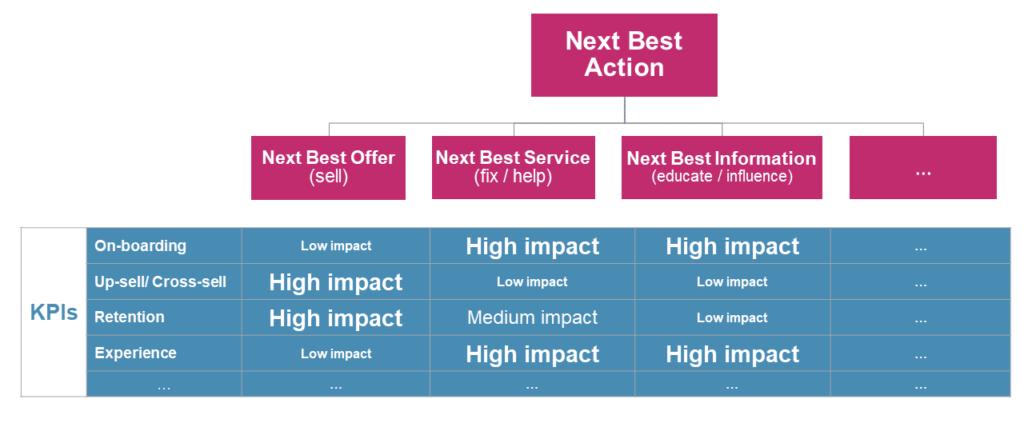 Next, given the appropriate context, Next Best Offer selects the highest impact KPIs to maximize business value along a seamless positive customer journey: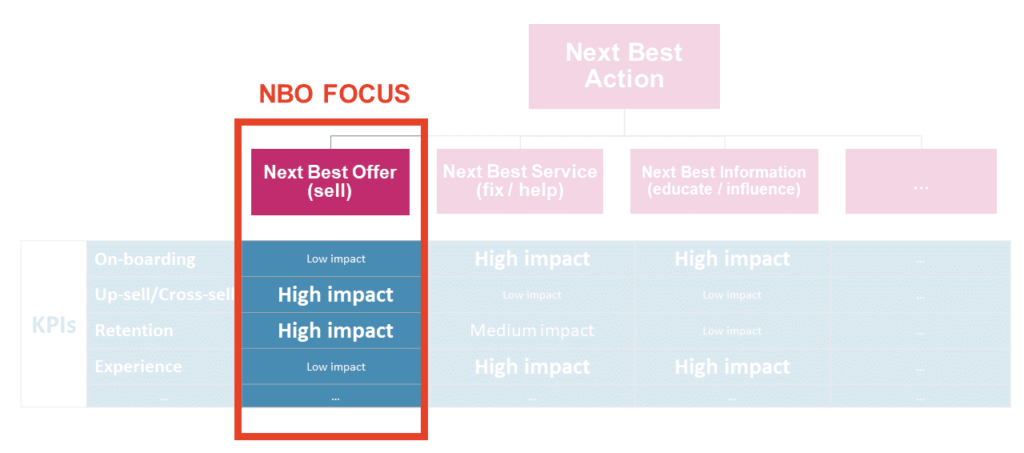 The Next Best Action & Next Best Offer process is far beyond cold calls pushing someone to buy something. Instead of being a nuisance, the telco answers customer needs at the moment they arise. This concentrates resources on opportunities with the highest chance of success while also cultivating customer loyalty. Next Best Offer brings the highest direct impact to upsell/cross-sell and retention activities.
Good for the back office too
To be more effective, Next Best Action & Next Best Offer needs to be implemented as an organization-wide initiative. Let's say if sales or service staff is not trained if the billing system is not ready, the NBA & NBO initiative will fail from the very beginning. Next Best Action & Next Best Offer optimize inward looking­ business processes to improve the entire telco's operations, such as:
      Responsible employee assignment
      Customer data collection & management
      Billing system configuration
      Evaluation of available offers
      Choice of the most appropriate delivery channel
      Sales and service staff training prior to initiating a new campaign.
Technology matters
Instead of bombarding customers with shotgun offers and wasting promotional budgets, NBO and NBA allow telcos to focus their marketing efforts and optimize resource use with end-to-end automated marketing campaigns. The result is increased effectiveness and significantly higher ROI or EBITDA
The power behind the Next Best Action & Next Best Offer processes comes from Customer Data Platform and Campaign Delivery tools. Customer Data Platforms (CDP) is an automated data management software that centralizes data across a wide variety of telco sources. It can analyze data from CDRs, digital service logs, social media activity, OTT usage, purchasing, billing, device stats and more. The Customer Data Platform also enables an omnichannel customer experience to monitor and then engage the customer on their preferred channel.
Accelerated by Artificial Intelligence (AI) & Machine Learning (ML)
Ideally, Next Best Action & Next Best Offer programs are driven primarily by business rules then enhanced by AI/ML algorithms. This enables a dynamic selection of the best recommendations for each customer depending on their recent behavior. Meanwhile, automated recommendations dramatically reduce the effort required from marketing and analytics teams to run an effective campaign.
The true power behind AI/ML algorithms is that they self-improve along the way. As more data cycles are analyzed, the process becomes more efficient and effective. Additionally, as situations change, the algorithms can adjust along the way. This minimizes lag time to respond to evolving customer preferences (e.g. changing social media channels) and maintains near real-time sales effort precision.
Marketing personalization impacts 3 key levels
The overall Next Best Action & Next Best Offer analytics impact is holistic and comprehensive for significant improvement across strategic, commercial and operational realms:
Strategic 

Commercial

Operational

Improves alignment with customer needs and wants.
Enables product portfolio expansion and digital transformation.
Reduces comparability to competition via personalized bundles.

Improves customer experience in digital and traditional channels.
Brings incremental revenue from better execution and faster new product introduction.
Reduces customer churn.

Lowers risk and increases automation for customer base management decisions.
Improves conversion rates across multiple channels.
Improves customer data and product catalogue quality.
In summary, NBA & NBO analytic tools can:
Leverage existing telco customer data.
Engage customers with relevant time-specific actions and offers.
Implement AI/ML to accelerate and automate processes that self-improve.
Take advantage of sales opportunities to increase customer value.
Improve customer experience and retention rates.
In the next blog post, we'll talk about 6 steps for successful Next Best Action & Next Best Offer implementation.