In our modern age, the term martech was born to express how digital tools are used to automate tasks and help marketers make data-driven decisions. Undoubtedly, for telecoms, the fusion of marketing and technology is second nature.
Marketing teams have adopted many of these martech tools, however, they don't always meet the demands of a mature telco. For instance, some martech platforms may not cover all the desired functionalities, or additional integrations are needed to run well with internal systems. In many cases, marketers end up spending more time managing multiple applications than delivering actual value.
Let's take a close look at the essential tools every telecom marketer requires for success. The five marketing tools we'll explore are:
Marketing Automation Platform

Customer Data Platform (CDP)

Artificial Intelligence Enabled Analytics 

Next Best Offer Engine

Communication Channels Platforms
TOOL #1: Marketing Automation Platform
Without automation, it's impossible to orchestrate a seamless customer experience through offline (POS, call centre, etc.) and online (web, mobile, etc.) channels. Marketing automation helps build automated workflows to improve customer engagements through multiple channels. Plus, you can track the effectiveness of all communications with the end-customer.
Marketing automation platforms provide:
Automated workflows

Centralized communication channel management

Message personalization

Rapid segmentation and segment analysis

Actionable reporting about customer engagement
Sounds great, right? While a generic platform may work for straightforward e-commerce, the telecom universe is much more complex. For example, telecoms need to manage significantly more communication channels (e.g. POS, SMS centre, online self-care, call centre), and specialized integrations with all these channels may be required.
Furthermore, marketing automation must integrate with telecom business support systems (BSS) to activate special offers, provide additional resources, or seamlessly extend contracts. That's why a one-size-fits-all platform may come with a high price tag as the core software functionality must be adapted to make it work. 
Meanwhile, an industry-specific solution, refined by industry experts, anticipates the challenges unique to telecom brands. This makes specialized platforms more affordable as user autonomy is engineered into the package. As we dig into the other tools, we'll see more clearly how this works.
TOOL #2: The Customer Data Platform (CDP)
Customer Data Platforms (CDPs) allow you to extract, manage, and unify customer data from different sources. It's an extremely useful tool to help marketers create a personalized customer experience and to optimize marketing investments.
Telecoms have two types of systems that generate massive quantities of customer data:
Internal Offline Systems (e.g. CRM, billing systems)

External Online systems (e.g. mobile apps, self-service customer care platform)
Unfortunately, offline data is often trapped in legacy systems, which don't allow effective customer data extraction. This missing link between online and offline data is frequently the main reason why many carriers offer a mediocre UX as the company can't assimilate all their data assets. For telecoms, it's critical to connect online/offline data to gain accurate customer insight and personalize the customer experience.
Generic customer data platforms (CDPs) work extremely well with online data (e.g. web-logs, mobile app logs), but they can't fully account for the complexities of managing and unifying telco offline data (e.g. CRM logs, billing logs, network management, support systems logs).
Furthermore, telecom customer identification is highly nuanced. In other sectors, an email may be the main consumer identifier. However, telecom brands typically service an entire household, and there may be one single buyer for services shared by several people. Hence, choosing a CDP tailored for telco can save a lot of time & effort.
TOOL #3: Artificial Intelligence Enabled Analytics
A good example of AI-enabled analytics might be a churn prediction model. Who's at risk for dropping out, and what can you do to keep them on board? Some martech platforms may provide an integrated functionality for configuring predictive algorithms but not a tailored predictive model for telecom churn management. 
It requires time and in-depth data science know-how to configure, maintain, and integrate predictive algorithms to yield viable results. You could attempt to create it from scratch, but expert built plug-n-play models are far superior in terms of performance and accuracy.
With the AI "template" in place, you just upload the required data, and the platform automatically returns a churn score.
TOOL #4: Next Best Offer Engine 
By observing customer data (tariff plans activated, data packages used, etc.) you can anticipate what might be the next best offer (NBO) for a specific customer. Does a family household have a basic TV plan? Why not offer a kids channel package to them? Or maybe you have a customer with a high probability of churning. Why not offer a 20% discount on their next recharge or a "top-up" incentive in the case of a prepaid plan? 
The next best offer engine helps marketers identify NBO automatically. This is Big Data & AI solutions at their best as it's fully automated, targeted and based on deep customer insight. These engines depend on the complex product catalogue structures of telecom businesses. A triple plan (TV, broadband, mobile) may look like one product to the consumer, but it's more than one in the billing system. Again, these nuances are addressed more effectively by industry-specific platforms.
Tools like the next best offer engines quickly separate the market leaders from the competition as an action is direct and automated for optimal results. In some cases, with telco specific NBO engines, brands can see a 200+% increase in conversion rates. 
TOOL #5: The Communications Channel Platforms
Channel providers are the wholesalers of messaging. Some examples are Twilio, Nexmo, and Amio. These providers enable a carrier to send mobile push notifications (SMS, WhatsApp, chat, email, etc.) using a single API. 
Some martech platforms enable seamless integration with these communications platforms to reach customers through multiple channels. However, generic platforms don't cover the wide diversity of existing telco channels. For example, owned communication channels (call centre, SMS centre, and Customer Care platforms) may still need to be managed with internal resources and solutions.
Conclusion
All of these tools are critical for the new age telco marketer to engage with customers, streamline customer value management, and optimize marketing spend. However, when choosing the right tool, it's important to evaluate if the platform can handle telco specific challenges.
Choosing industry specific platforms can bring more value due to:  
Faster time to market

– Integrating tools into a multilayered telco IT stack is complex. Solutions pre-built for the telecommunications environment accelerates the process.

Higher ROI

– Generic martech brands often require advanced and costly consulting to meet the needs of telecoms. Industry specific solutions are more affordable as they work out-of-the-box. Achieving significant investment return hinges on the lower entry price coupled with more effective marketing. The result is higher customer retention and revenue growth stimulation.

Autonomy

– Carriers don't need to rely on cumbersome consultant relationships. Instead, the solution is installed, and it becomes a familiar component of your tech stack. As solutions become more complex, intuitive and user-friendly options make life easier for marketers. 
What to read next?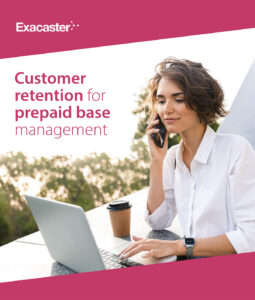 Download whitepaper "Customer Retention For Prepaid Base Management" and learn:
What is a comprehensive value growth framework
Main challenges to retain prepaid customer
5 steps to build an effective retention initiative
How to keep risky new prepaid subscribers
Why Customer 360 enables next-generation customer base management