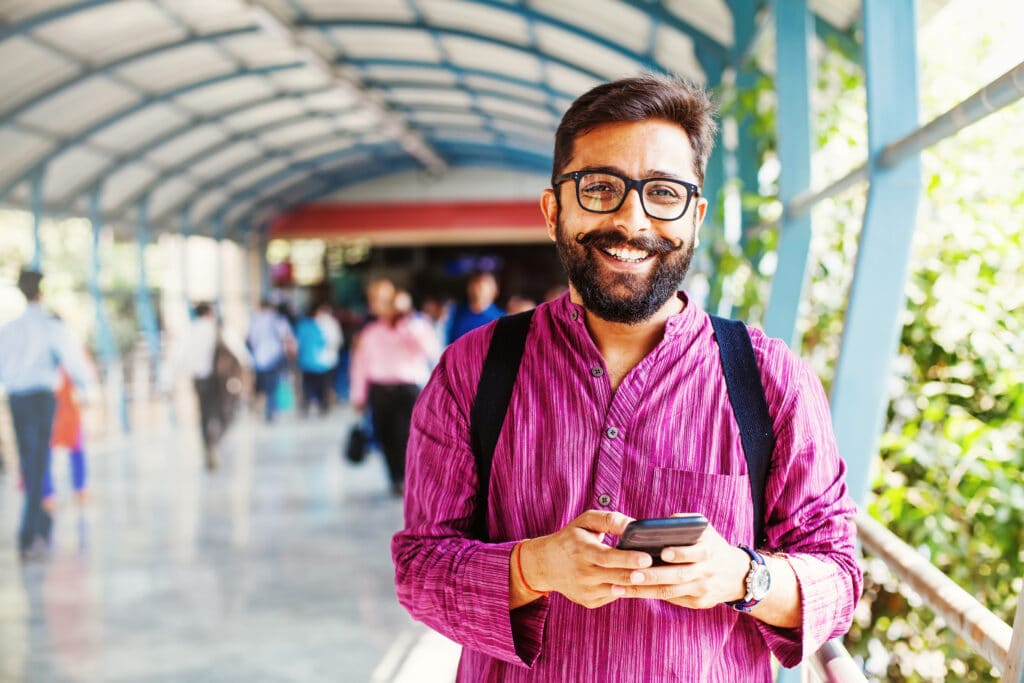 Personalization & customer-centric marketing holds tremendous promise for Asian telcos. However, it's difficult to attain measurable gains given the variety, velocity, and volume of customer data being generated and processed. And the difficulties have been accelerated by the pandemic crisis.
Linking customer touchpoint data (digital+offline) with service usage information from scattered silos and systems is a mammoth task – especially when marketers want to deliver specific offerings 'at the moment'. In the highly competitive telecom marketplace, the COVID-19 crisis has augmented operational challenges due to the increase in online usage as well as vanishing physical touchpoints to connect with customers.
Responding to New Realities
Although many companies have risen to the challenge, surgical precision and lightning-fast speed are still hard to achieve for marketers. Telcos are finding it difficult to deliver situation sensitive personalization while balancing business priorities and the need to respond in real-time. As a consequence, companies often resort to an ineffective 'few-sizes-fit-most' approach.
Today subscribers want access to products & services that are easy to discover, easy to use, relevant, highly personalized, and that offer a seamless experience across all touchpoints. To achieve this, telcos must know as much as possible about each subscriber. Plus, the perfect product & service experience must be tailored to exceed customer expectations every time.
Asian telcos are responding to these challenges by deploying recommendation engines designed to generate the 'Next Best Action' to push the best offers & information to subscribers in real-time. This also builds operational efficiency for managing the buyer journey through end-to-end automation.
What is Next Best Action & Next Best Offer
In our NBA and NBO Guide we talk about how essentially every telecom customer engagement leads to one of two decision making moments:
Next Best Action (NBA) chooses the best customer-centric action like sending a birthday message, asking for service evaluation, or emailing new smartphone instructions based on preceding relevant customer events.
As part of the overall NBA strategy, Next Best Offer (NBO) optimizes a highly customized offer selection from the telco catalog. NBO evaluates options and recommends the offer most likely to be accepted. Optimization occurs for product choice, timing, price, and channel. NBO aligns offerings that hook subscribers and ultimately increase customer lifetime value (CLV).
The power behind NBA & NBO engines relies on key factors:
The entire customer data set is gathered, organized & leveraged towards business goals.
NBA/NBO fully anticipates the customer point-of-view to provide a satisfying, end-to-end customer experience.
Artificial intelligence (AI)/ Machine Learning (ML) algorithms automate, accelerate, and enable continuous improvement.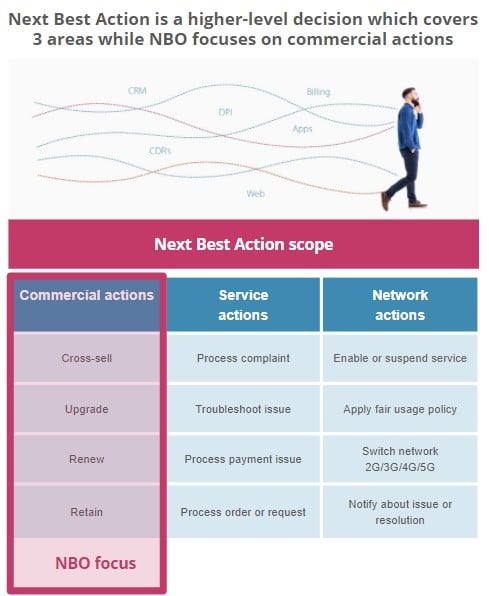 Initially, given any customer interaction, the NBA engine has a variety of actions to choose from, such as to sell, offer help, or educate the customer. Plus, each action is mapped to key KPIs. From there, when the time is right, the engine can determine the Next Best Offer.
Next Best Action & Next Best Offer Example
A customer call center frequently gets callers seeking generic information, plan information, the nearest retail store location, or to register a complaint. The Next Best Action engine can derive the best course of action, and customers can be guided to a self-service menu at a high attention span moment (end of the call, end of the service call, etc.) This dramatically reduces the OPEX level required for customer bases of 15 million on average, not to mention customer bases that reach up to 300 million.
The Next Best Offer engine derives accurate predictions for the best channel, best content, and the best time to showcase an offer. This advanced level of decision making is achieved through AI technology which ingests customer data and builds recommendations on the fly to deliver a superior customer experience.
A subscriber in India with Age On Network < 5 years, Prepaid ARPU > 350 rupees, and Churn Propensity < 90% skips the monthly recharge. The NBO determines that this subscriber is a high churn risk which means a retention action should be taken. The NBO engine automatically:
Picks the most suitable offer.
Recommends content (based on the highest propensity to accept the offer).
Delivers the content in the most preferred channel.
The customer might get an SMS like this:
Dear Customer,
Get 2X data with just Rs 300 recharge. Plus, 1 Month of free Netflix access.
Offer valid till today only.
Dial *121# to accept.
Improving Customer Experience
Marketing activities have been gaining a lot of attention with the advent of Next Best Action & Next Best Offer focused on a customer-centric approach. When seeking automated operations, as well as an excellent customer experience, service providers are looking for ways to channel AI-driven automation to improve outcomes through NBA & NBO platforms.
Gone are the days when segmentation and CVM teams spent hours to mine customer data, understand competitor offerings, identify offer repository gaps, customize offers, and then choose the best channel to push those offers. Following this old method, by the time the campaign is ready, the customer may refuse the offers or churn away. Now, all these tasks can be completed in an automated, accelerated fashion.
Customer Centricity Example
Consider a prepaid customer that purchases an add-on data package. If everything works according to plan, the result is a happy customer – and incremental revenue for the service provider. But if the payment gateway is too slow or complex, the customer may get frustrated which could lead to a failed transaction. It may even result in a switch to a competitor whose experience is perceived to be superior.
For telcos, customer-centricity leads to a direct (and quantifiable) impact on both business growth and perceived value – including the bottom line. In the scenario above, NBA/NBO engines can detect problems before payment failure and recommend further action for a better experience.
For instance, the customer might get a proactive message like this:
Dear Customer,
We apologize for the decline of your last recharge attempt.
Buy your monthly recharge through mobile money and get an instant 10% discount today.
Activate now.
AI-Driven Automation Capabilities
Using AI-driven automation, service providers can:
Identify offerings that impact the end-customer and deliver a superior customer experience.
Define the gaps in the offerings which are sometimes too generous or too expensive and that can damage bottom-line revenue.
Automatically identify and implement the corrective measures, often preventing a negative customer experience.
Check the product offerings and suggest the best offer from the overall product portfolio.
Visualize business impact through the best offering portfolios and business matrix.
More than ever, today's disruptive business environment demands quicker go-to-market solutions for telcos to stay relevant and contextual. The event landscape has shifted in ways marketers never imagined. Ideas that were of lower priority have now taken a front seat.
It's time to re-think and devise new concepts and solutions – not only to sustain the business but to grow your revenue into the future.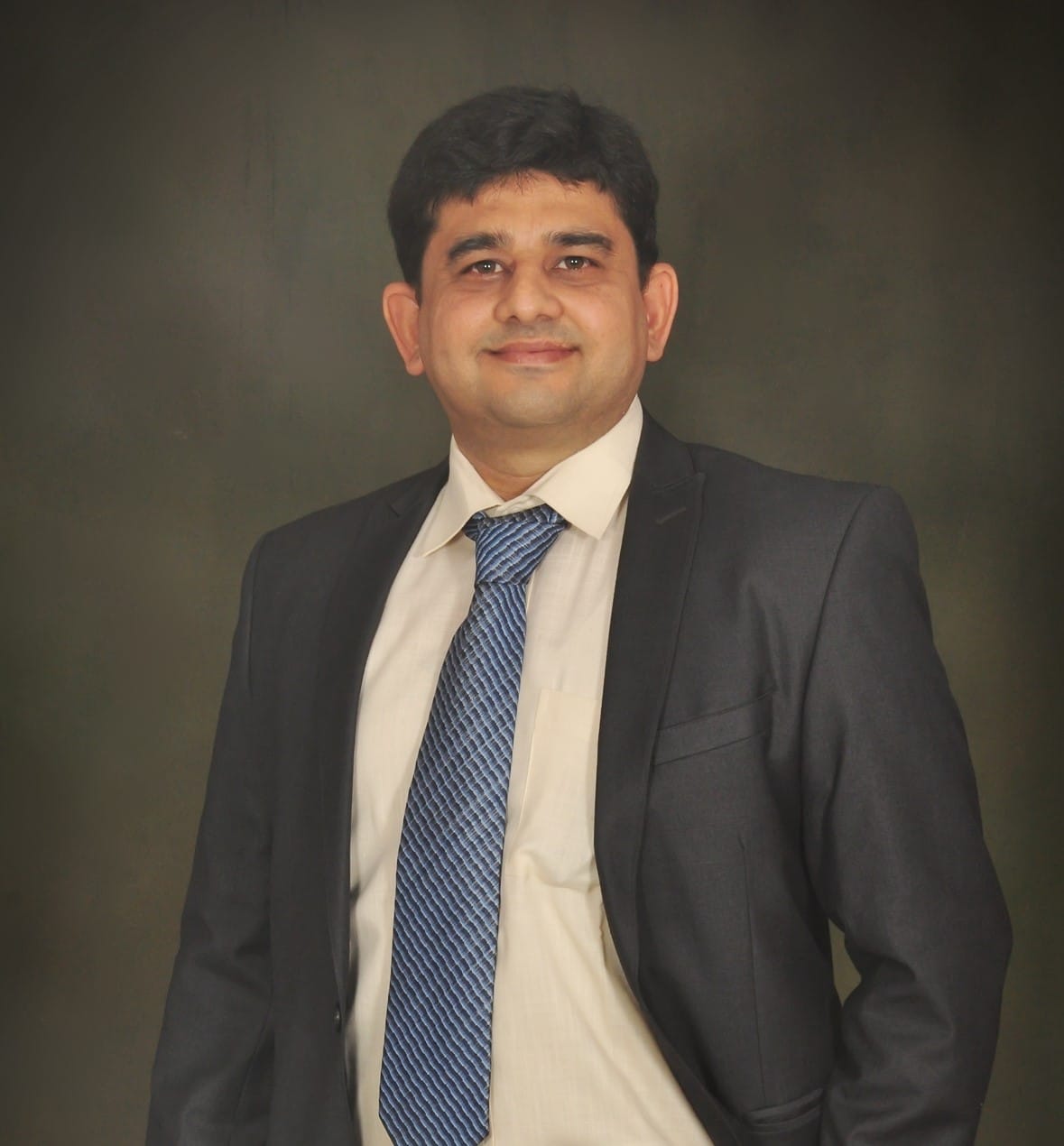 Ashutosh Mehrotra is leading Exacaster business development and sales for the APAC region. With over 16 years of experience in the Telco and IT domain, Ashutosh is an expert with a proven track record in solving specific industry challenges such as customer acquisition and retention, CLTV growth, service usage increase, and personalization. He has worked with global brands like Tech Mahindra, Tata Teleservices, and Virgin Mobile in leadership roles for business development, product management and marketing domains.