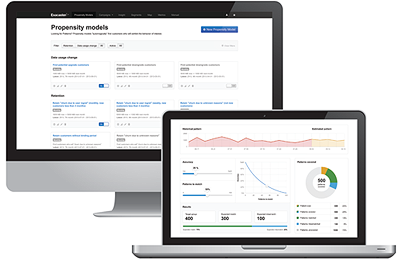 We are a big data predictive analytics technology company developing advanced machine-learning algorithms and software platforms that address key sales and marketing challenges including churn or usage prediction, product recommendations, segmentation and real time dynamic pricing.
The Exacaster Platform, our flagship offering, helps telecom and retail marketers visualize data, predict customer behavior with propensity models, execute model-driven or event-triggered multi-channel campaigns and measure their impact.
Having deployed our platform for enterprise clients in nine countries on three continents, we crunch behavioral data on more than 10 million consumers daily.


Lost in information? Lost in data preparation? Lost without action?
Let the powerful Exacaster suite of cross-industry products solve your big data challenges.

Finds interesting new
stories in your data

Handles terabytes on Hadoop

Explores very
high-dimensional data

Self-updating
Learn more and order

Increases data scientists'
productivity by a factor of 10

Increases model accuracy

Reduces maintenance
and ETL costs

10M+ rows x 1M+ columns
Learn more and order

Personalizes everything

Consistent messages,
multiple channels

Workflows as complex
as your imagination

Scalable delivery
Learn more and order
Some of Our Clients